This is an archived article and the information in the article may be outdated. Please look at the time stamp on the story to see when it was last updated.
CLEVELAND — Law enforcement sources say they are investigating allegations that three missing women found alive Monday in a Seymour Avenue home may have been pregnant multiple times. It is unclear if more than one child had been born.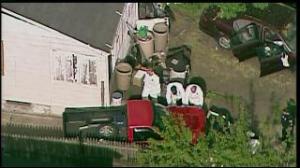 The sources also say that the victims, Amanda Berry, Gina DeJesus and Michelle Knight, all appear to be malnourished, and that Knight may have suffered hearing loss. She has reportedly told police she was hit in the head. She may also have structural damage to her face.
A source further noted that Knight told police that there was another woman in the home when she got there, but one day she woke up and the woman was gone. There is writing on the wall in the basement which includes the name of a female and says, "Rest In Peace," but police do not know if that is related to the case at this time.
Meanwhile, a police spokesperson on Tuesday said all three women had been released from the MetroHealth Medical Center and were taken to a "secure location."
Three men have been arrested in connection with the case. Ariel Castro, 52, along with his two brothers, 54-year-old Pedro Castro and 50-year-old Onil Castro have been arrested. Police say they are all in the Cleveland city jail, awaiting charges.
The son of Onil Castro, who did not want to be identified, says his Uncle Ariel would not let anyone inside his home.
"He never let anybody in his house nobody, my father, his own mother, if she went there she would call from outside the house and say she out front," his son said.  "My other Uncle Pedro would ride his bike there but nobody ever went into that house."
He also said the family thought it was a little odd that Ariel wouldn't let anybody inside but said they thought he just liked to keep to himself.
"Nobody would think that he's got girls, females trapped tied up in his basement or wherever it was , however, he had it, this is sickening on our family, our whole family being dragged through the mud right now," he said.
– Fox 8's Lindsay Buckingham contributed to this report.
*For continuing coverage on this story, click HERE.