This is an archived article and the information in the article may be outdated. Please look at the time stamp on the story to see when it was last updated.
CLEVELAND — As the Cleveland Indians prepare for Wednesday night's Wild Card game against the Tampa Bay Rays, a local woman who helped inspire the movie "A League of Their Own" is also getting fired up for her team.
"We are such Indians fans," said Audrey Haine Daniels.
The 86-year-old mother and grandmother from Northeast Ohio watches every game with her husband of 67 years, Bud Daniels.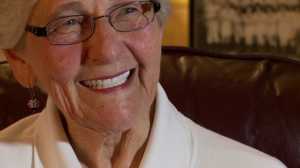 But Haine Daniels isn't just a tribe fan – she helped make the sport what it is today.
In 1944, at the age of 16, Haine Daniels was approached by a player from the All American Girls Professional Baseball League.
Haine Daniels was a standout power pitcher for her championship high school team.
The league was formed a year earlier to help keep professional baseball fields open and in business during the war.
Many professional players, including New York Yankees legend Joe DiMaggio, left the field to serve their country during WWII.
"It kept it (baseball) alive in people's minds," said Haine Daniels.
The player said a scout was interested in her as a pitcher.
That winter she got a contract and by the next year at age 17 she began playing in the league as pitcher for the Minneapolis Millerettes.
"I always loved to play baseball, we'd play right out on the street," said Haine Daniels.
The league and games were a long way from her smalltown home in Manitoba, Canada.
But Haine Daniels says they stayed with nice families, earned a good wage at the time of $65 per week and even went to charm school.
"Some of the players skipped the charm classes. I never did, I hope you noticed," she chuckled.
Haine Daniels still has a great sense of humor and pride in her sport, which opened doors for female athletes everywhere, but she didn't tell her own children about her legendary past until around 1980 when her team had a reunion.
She has been inducted into multiple Hall of Fame museums from Canada to Cooperstown, and can be seen in cameo appearances throughout the 1992 movie "A League of Their Own" with Tom Hanks and Madonna, which was inspired by Haine Daniels and the hundreds of other female players.
She has definitely seen a lot, but is still waiting for the Indians to win it all, starting with the Wild Card game.  And she admits that she is nervous.
"I don't want to watch it – afraid to watch it," she told Fox 8 News.
During her own career, Audrey averaged a 3.50 ERA and struck out 493 batters with at least two no hitters.
So Fox 8's Suzanne Stratford asked her if she had any advice for starting rookie pitcher Danny Salazar.
"Yeah- yeah," said Haine Daniels.  "Make sure the batters don't hit it, and get it over (the plate) with a little -eh eh."
She thinks Salazar will perform well Wednesday, and she should know, having learned from the best.
Haine Daniels' first manager was legendary Cleveland Indian Bill Wamby.
"He made the only unassisted triple play in the World Series at that time," said Haine Daniels.
Wamby actually instructed Haine Daniels to get a proper baseball glove, and she still has the weathered mitt to this day.