This is an archived article and the information in the article may be outdated. Please look at the time stamp on the story to see when it was last updated.
WILLOWICK, Ohio — The woman charged with hitting two boys while passing their stopped school bus changed her plea on Thursday.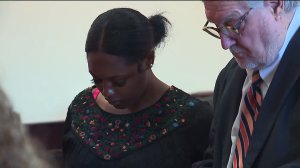 Daila La'Shay Wilson, 18, of Euclid, pleaded no contest to failing to stop after an accident, driving left of center, passing a stopped school bus and reckless operation.
The judge called it the worst form of a hit-skip before sentencing Wilson to 180 days in jail with no days suspended. She was also ordered to pay fines and court costs. Her license will be suspended for three years with no driving privileges.
The hit-and-run happened May 13 on East 300th Street.
Video, recorded by cameras inside the Willoughby-Eastlake school bus involved, shows a red car passing the stopped bus as the bus driver honks the horn and yells "no, no, no" at the passing driver.
It shows the car then stopping for a moment after hitting the children before quickly accelerating away from the scene.
Police said after the incident, Wilson drove to work.
During Thursday's hearing, Dawn Shandle said her son suffered scrapes and bruises. Mason is afraid to get on a school bus, she said.