This is an archived article and the information in the article may be outdated. Please look at the time stamp on the story to see when it was last updated.
Here's the bottom line when it comes to the winter weather outlook for this season: There will be no free ride like last winter when El Nino was the primary driver. This winter we will influenced by a very weak La Nina (opposite of El Nino) along with a host of other drivers which were suppressed last year due to the strong El Nino. Last winter, the polar jet stream was very stable and strong keeping the cold, arctic air locked up north for much of the winter. This winter, indications are that the polar jet stream will be weaker allowing bursts of colder air more frequently.
Last winter, we had ONLY 32 inches of snow. This year: we are forecasting more than double that, about 71 inches of snow. The average snowfall for Cleveland is 66″.  Here are the seasonal snow averages for all of northern Ohio. We can add 5-10″ to these numbers this winter.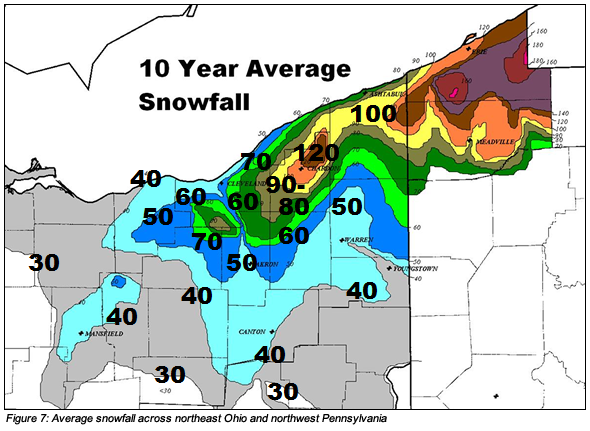 There will be a slow start in December with temperatures about 2 degrees above normal.  However, small periods of colder air are more likely this December than last year and the year before.
In January, there will be more snowy visits; temperatures will be 2 degrees below normal.
In February, the active winter pattern really sets up; temperatures will be about 4 degrees below normal.
This winter as a whole temperatures will average BELOW NORMAL and snowfall SLIGHTLY ABOVE NORMAL.
**watch the entire outlook in the video above**