This is an archived article and the information in the article may be outdated. Please look at the time stamp on the story to see when it was last updated.
ATLANTA (CNN) — After icing parts of Texas, Louisiana, Mississippi and Alabama, a winter storm arrived Wednesday in Georgia, dropping a mix of ice and rain that was expected to continue pelting the Southeast into Thursday.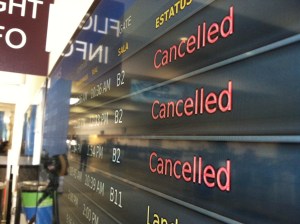 Some flights to the Southeast out of Hopkins here in Cleveland have been cancelled. As always, check with your carrier. CLICK HERE for updates, as well.
Precipitation decreased across Georgia early Wednesday afternoon, but it's expected to pick up again later, bringing more ice and snow to metropolitan Atlanta. While the ice will taper off later in the day, the snow is expected to continue into the night, according to CNN meteorologists.
[protected-iframe id="b034cbcf1ab9525fb01e026fa7cd5ac9-28572381-28528036″ info="http://google.org/crisismap/2014-us-winter-storm?hl=en…" width="400″ height="400″]
Heavy ice accumulation from freezing rain is still possible across South Carolina and central North Carolina, CNN meteorologists said.
Up to three-quarters of an inch of ice was expected to accumulate on Atlanta and up to 10 inches of snow and sleet on Charlotte, North Carolina, making travel treacherous.
Area residents had heeded ample warnings issued by forecasters, emptying grocery store shelves, filling up their tanks with gas and filling their trunks with salt.
In Atlanta, the city that couldn't get out of its own way after a 2.6-inch snowfall two weeks ago, road crews were staged along nearly empty highways — not that it mattered, as the roads were largely deserted during the typically crowded morning commute.
It appeared the thousands of commuters who spent up to 20 hours stuck on the city's highways last month had learned their lessons.
Gov. Nathan Deal applauded Atlantans who kept the roads clear, saying during a midday news conference, "That's a good starting point."
A low-pressure weather system is expected to move up the East Coast, dropping snow on the Northeast. Six to 8 inches are predicted for Washington, with especially heavy snowfall Thursday morning, and 6 to 10 inches on New York from midnight Wednesday into the day Thursday, with some combination of snow, sleet and rain continuing until Friday morning.
National Weather Service forecasters say the storm — packed with sleet, snow, rain and ice — is a potentially "catastrophic event."
"This is one of Mother Nature's worst kinds of storms that can be inflicted on the South," Deal told reporters Tuesday afternoon. "That is ice. It is our biggest enemy."
In Georgia, more than 400 members of the National Guard were deployed for weather duty, and about 100 each for the Carolinas and Alabama. The National Guard also opened 35 of its armories in Georgia to be repurposed as shelters and warming centers, CNN affiliate WSB-TV reported.
The Red Cross reported that more than 200 people sought shelter overnight at its facilities in Alabama, Louisiana, Georgia, North Carolina and South Carolina. That number is expected to climb Wednesday night, and the Red Cross has identified potential shelter sites in Virginia, West Virginia, Pennsylvania, Maryland and Delaware, it said.
Because of the storm, the organization said it had to cancel more than 1,000 blood drives, resulting in a shortage. Anyone able to give blood can contact the Red Cross at redcrossblood.org or by calling 1-800-RED CROSS.
Power outages
Sleet and freezing rain began falling across Georgia early Wednesday, causing scattered power outages from Louisiana to North Carolina. More than 252,000 customers were without power in the Southeast, roughly 119,000 of which were Georgia Power customers, the utility company said.
South Carolina and Louisiana were also hit hard, with 121,000 and 10,000 customers losing electricity, power companies in those states reported.
The utility companies said Wednesday morning they expect those numbers to rise over the next 24 hours.
Georgia Power, the state's largest utility, warned that hundreds of thousands of customers could be without electricity "for days."
"This has the opportunity to be a huge event when you're talking about the amount of ice you're looking at," Aaron Strickland, the emergency operations chief for the power company, told reporters.
The utility staged fleets of trucks across the area. Teams from Florida, Texas and Ohio bolstered local line crews.
More wicked weather coming
Twenty-two states — from Louisiana to Maine — are under winter advisories.
"Widespread and extended power outages are likely as ice accumulates on trees and power lines and brings them down," the warning says. "Please prepare to be without power in some locations for days and perhaps as long as a week."
In the Appalachians, more than 8 inches of snow were predicted to fall Wednesday.
Accumulations of 3 to 5 inches are expected in metropolitan Atlanta, and more in its northern suburbs. In Atlanta and Decatur, forecasters are expecting freezing rain and sleet through the evening before the storm dumps snow and sleet on the cities. Flurries were expected to taper off Thursday morning.
Northeast Georgia and upstate South Carolina could get more.
Residents of Charlotte, North Carolina, were looking at up to 10 inches of snow, with freezing rain and sleet entering the mix overnight, while mountainous southwestern Virginia could see up to 14 inches.
Snow was also expected to begin falling on Worcester, Massachusetts, overnight, with a heavy spell of the white stuff expected Thursday afternoon. Accumulations are expected to reach 5 to 7 inches. And in Manchester, New Hampshire, forecasters said snow would begin falling Thursday morning with 8 to 10 inches sticking before Friday morning.
Closings and cancellations
Throughout the Southeast, hundreds of businesses, churches, government offices and school systems were closed because of the weather, CNN affiliates reported.
Among the cities with lengthy lists of closings were Atlanta; Nashville; Birmingham, Alabama; Baton Rouge, Louisiana; Charleston, South Carolina; Columbia, South Carolina; Memphis, Tennessee; Little Rock, Arkansas; and Charlotte, North Carolina.
All Georgia government offices will be closed Thursday as well, Gov. Deal said.
In Atlanta, the U.S. Women's National Team postponed its soccer match with Russia, which was scheduled to take place Wednesday in the Georgia Dome. It also canceled its training session Tuesday evening.
The game was moved to Thursday at 7:30, and those who bought tickets for the Wednesday match can use their tickets to get into Thursday's game, the U.S. Soccer Federation said in a prepared statement.
"The decision was made in accordance with the proactive approach by the city of Atlanta and state of Georgia to reduce the problems that occurred during a winter storm in late January," the federation said, explaining its decision to cancel the game Monday.
Transportation woes
The storm system was taking its toll on travel.
Amtrak suspended some of its rail service in the Northeast, South and Mid-Atlantic regions for Wednesday.
Nationwide, more than 3,000 flights were canceled, according to FlightAware.com, and about 1,600 of the 2,500 scheduled departures and arrivals at Atlanta's Hartsfield-Jackson International Airport were among those canceled.
Charlotte Douglas International Airport and Raleigh-Durham International Airports accounted for the majority of other flights canceled.
Delta Air Lines said Tuesday that some Atlanta employees would sleep on planes because there weren't enough hotel rooms for them. On Wednesday, though, a Delta spokesman said employees did not end up sleeping on planes after all.
Road conditions
Georgia's Department of Transportation put crews on 12-hours shifts to salt, sand and scrape the roadways.
Deal said the state has brought in an additional 180 tons of salt and sand, and he urged residents not to put themselves "in jeopardy or danger."
Residents complied. Tuesday's rush-hour traffic was light. Traffic clustered around gas stations and grocery stores.
South Carolina Gov. Nikki Haley dispatched additional Highway Patrol officers to help with the expected accidents and stranded motorists on state highways, her office announced.
Deadly toll
At least five deaths have been blamed on the weather, including three people who died when an ambulance driver lost control on an icy patch of road outside of Carlsbad, Texas.
The ambulance slid off the roadway into a ditch, where it rolled over, caught fire and burned, the Texas Department of Public Safety said. A patient, a paramedic and another passenger were pronounced dead at the scene.
"If you get even a tenth of inch of ice on a road, it's like a skating rink," said Kurt Van Speybroeck, a National Weather Service meteorologist in Dallas.
In Mississippi, where the northern part of the state could see up to four inches of snow, authorities blamed the storm for two traffic deaths.