This is an archived article and the information in the article may be outdated. Please look at the time stamp on the story to see when it was last updated.
It's the most wonderful time of the year!
Celebrate the holidays and all the fun winter has to offer by checking out the events and attractions below.
[protected-iframe id="ed1c3af6112f6a5bc793e44fd784bbb5-28572381-75933194″ info="https://www.google.com/maps/d/embed?mid=1JWTYEgCC4AYiO6EexPCdHr-jmIg" width="640″ height="480″]
Events:
Akron Holiday Tree Lighting Ceremony
200 S. Main St., Akron, Ohio 44308
Friday, Nov. 25 at 7 p.m.
A pyrotechnics show kicks of the tree lighting. Stick around for ice skating.
Akron Sugar Plum Tour
Sunday, Dec. 4 from 1 p.m. to 5 p.m.
Take a look inside five exquisitely-decorated Akron homes filled with sparkling trees, roaring fires and twinkling lights. General admission passes are $25.
Chardon Christmas Lighting
Chardon Square Short Ct. St., Chardon, Ohio 44024
Thursday, Dec. 1 from 5 p.m. to 7 p.m.
Musical performances and cider before Santa arrives to lit up the square for Christmas.
Christmas in Zoar Village
198 Main St., Zoar, Ohio 44687
Dec. 3 from 10 a.m. to 6 p.m. and Dec. 4 from noon to 5 p.m.
Enjoy music and historical demonstrations in the beautifully-decorated town. Tickets are $8 a person. Children 12 and under are free.
Crafty Mart's Holiday Show
Musica, Akron Art Museum, and Summit Artspace
Nov. 26 from 11 a.m. to 6 p.m. and Nov. 27 from noon to 5 p.m.
Handmade gifts at three different venues in Akron. Complete list of vendors here.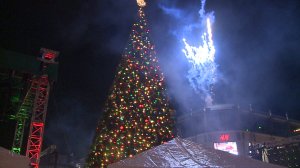 Crocker Park Tree Lighting Extravaganza
Saturday, Nov. 19 at 5 p.m. to 7:30 p.m.
Tons of family-friendly activities and a performance from Disney star Peyton List before lighting up the Christmas tree.
Holiday CircleFest
Wade Oval and surrounding museums
Sunday, Dec. 4 1 p.m. to 7 p.m.
Food trucks, shopping, music, carriage rides and more, this event is in its 23rd year. Check the schedule because we don't have room here to list everything that's happening.
Island of Misfit Toys at the Akron Art Museum
1 S. High St., Akron, Ohio 44308
Sunday, Dec. 4, three sessions.
Kids and their grownups take parts of broken toys to create new, one-of-a-kind sculptures. Registration is required. The event is free, but please bring one new, unwrapped toy to donate to Toys for Tots.
Lorain Waterfront Winterfest
Broadway Avenue, Lorain, Ohio
Nov. 26 and Nov. 27
A Christmas parade followed by music, ice sculptures, live nativity scene and fireworks. Full schedule here.
Santa's Toy Workshop at Farmpark
880 Euclid Chardon Rd., Kirtland, Ohio 44094
Select weekends in November and December. Fee is $2 per toy with paid Farmpark admission.
Children 2 to 11 can build and paint their own toys with Santa's elves.
Welcome Santa Parade
200 S. Main St., Akron, Ohio 44308
Saturday, Nov. 26 at 11 a.m.
Floats, marching bands and costumed characters ring in the holiday season.
Winterfest
Public Square, Tower City and more downtown Cleveland locations
Saturday, Nov. 26. Check the schedule for all events and times.
Before the tree-lighting ceremony, you can visit Santa, go ice skating, take a carriage ride and so much more.
Attractions:
Akron Zoo Wild Lights
500 Edgewood Ave., Akron, Ohio 44307
Nov. 25 to Dec. 30 from 5 p.m. to 9 p.m. Tickets are $15 for adults and $10 for children. Parking is $3. The Akron Zoo will be decked with 25 miles of lights. Visit Santa Land and the S'mores stations.
Carlisle Reservation Holiday Lights
12882 Diagnoal Rd., LaGrange, Ohio 44050
Nov. 25 to Dec. 23. Special hours on Christmas Eve. Free. Please donate a non-perishable food item. Walk the half-mile loop of Christmas light displays then ride the Little Green Choo Holiday Express to see more festive decorations.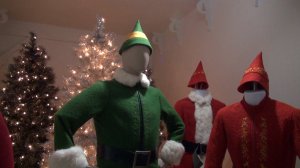 Castle Noel
260 S. Court St., Medina, Ohio 44256
It boasts it's "America's largest indoor year-round Christmas entertainment attraction." Window displays from New York City department stores, a 25-foot-tall animated Christmas tree and props from all your favorite Christmas movies. You can even ride down the slide like Ralphie in "A Christmas Story." Check the website for hours and pricing.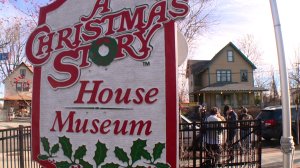 Christmas Story House and Museum
3159 West 11th St., Cleveland, Ohio 44109
Open 10 a.m. to 5 p.m. seven days a week, except major holidays. Extended hours during the holiday season. Admission is $11 for adults and $7 for children 3 to 12.
Admire the "major award" leg lamp and even buy your own. Just don't shoot your eye out.
Cuyahoga Valley Scenic Railroad Polar Express
7900 Old Rockside Rd., Independence, Ohio 44131 or 27 Ridge Street, Akron, Ohio 44308
Several dates in November and December.  Check the website for times and availability.
Take the children on a magical journey to the North Pole. There is also an adult-only holiday train ride.
Gift of Lights at Victory Park
7777 Victory Ln., North Ridgeville, Ohio 44039
Nov. 18 to Jan. 1. Tickets start at $15 per vehicle.
Load up the car and drive through 30 state-of-the-art light displays, including a 100-foot tunnel.
Glow at the Cleveland Botanical Garden
11030 East Blvd., Cleveland, Ohio 44106
Nov. 25 through Dec. 31. Check the website for specific dates and times. Admission is $16 for adult non-members and $12 for child non-members. The gardens glow with thousands of lights and colorful orbs with fun activities for the kids.
Kirtland Nativity Exhibit
7800 Kirtland Chardon Rd., Kirtland, Ohio 44094
Nov. 27 to Dec. 31. Hours listed online. Closed Christmas Day.
Nearly 1,000 nativities from more than 30 counties on display. Children can dress in custom and take photos in a kid-size nativity.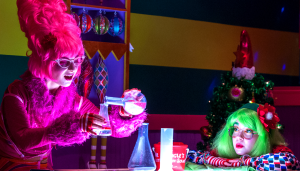 Mr. Kringle's Inventionasium
Level One of Tower City Center 230 West Huron Rd., Cleveland, Ohio 44113
Ticket prices start at $22 for children and $16 for adults. Schedule a reservation here.
This is more than just a photo op with Santa. It's a hands-on, fun-filled experience.
Toy Soldier, Fairy Godmother and Friends Holiday Show
Grand Staircase of Tower City Center 230 West Huron Rd., Cleveland, Ohio 44113
Check the site for dates and times.
The free performances have been a holiday tradition for generations.
Outdoor ice skating and tobogganing:
Chalet toboggan chutes
16200 Valley Pkwy., Strongsville, Ohio 44136
Open from Nov. 23 to March 5.
Hours and rates listed online.
Cleveland Foundation Ice Rink in Public Square
Nov. 18 to Feb. 28. Hours of operation listed here.
Tickets are $10 if you need to rent skates or $7 if you bring your own.
The Ice Rink at Lock 3
200 S. Main St., Akron, Ohio 44308
Beginning Nov. 18. Hours and days vary.
Admission is free. Skate rental is $3.
The Rink at Falls River Square in Cuyahoga Falls
Open Nov. 26 through February. Check the schedule for days and times.
Free for residents and $3 for non-residents. Skate rental is $3.
The Rink at Wade Oval
10820 East Blvd., Cleveland, Ohio 44106
Nov. 25 to March 5. Hours vary during December. Closed Christmas Day and New Year's Day.
Admission is $2 and skate rental is $3.
Want your event added? Send the information to jsteer@fox8.com.