This is an archived article and the information in the article may be outdated. Please look at the time stamp on the story to see when it was last updated.
WILLOUGHBY, Ohio– The Rebel mascot for Willoughby South High School has had its share of controversy over the years.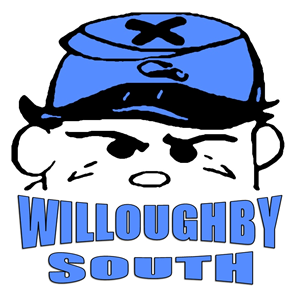 On Thursday, Willoughby-Eastlake City Schools confirmed the Willoughby South Rebel is gone. The mascot depicted a man dressed in a uniform with an "X" on his hat.
Many believed that to be representative of a Confederate soldier from Civil War time dressed in "rebel gray."
During a press conference Thursday afternoon, Superintendent Steve Thompson said, "Times have changed; it's taken on a negative connotation."
The superintendent said this is his decision to do away with the logo; the name will stand for now.
The plan is to seek input from students, staff and the community about moving forward; they will talk about whether they just change the logo or the name too.
​
In the past, the confederate flag was also part of the high school imagery, but the district removed all flag references in the early 90s.
According to sources within the district, the decision to remove the rebel mascot itself had been in the works for a while, but some believe the events of this past weekend in Charlottesville, Virginia sped up the process.
Willoughby Eastlake schools public relations coordinator Catharine Beal sent this statement to FOX 8 regarding the decision:
"In light of the changing perception of the Civil War rebel icon, Willoughby-Eastlake City School has made a decision to move forward to identify a new figure to represent the South High Rebels."