This is an archived article and the information in the article may be outdated. Please look at the time stamp on the story to see when it was last updated.
WILLOUGHBY, Ohio– Willoughby-Eastlake City Schools will be closed on Wednesday as school officials deal with a devastating blaze at the board of education.
The fire at the facility on Ridge Road in Willoughby was reported at about 12:30 a.m. Tuesday.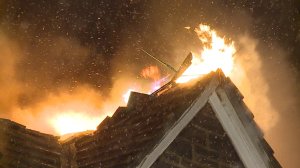 At least two floors of the 102-year-old Chandler Estate were engulfed when the Willoughby Fire Department arrived. Nineteen surrounding agencies responded to the scene.
Superintendent Steve Thompson said the historic building is "not repairable."
According to Thompson, the Willoughby-Eastlake City Schools' servers were housed in the facility's basement. He said that means they have no access to Internet or phones, which puts the schools in a compromising position for safety.
"We're closed tomorrow because in the event of an emergency, we could not communicate and I'm not willing to take that risk," Thompson said.
Personnel and special education files were also located in the building.
"I think we're going to spend the next several months trying to replicate those documents," Thompson said.
Central office personnel are moving into the Willoughby-Eastlake School of Innovation on Chardon Road.
Willoughby Fire Chief Todd Unger said the cause of the fire is unknown at this time. Weather conditions hindered firefighting efforts, Unger said.
"The initial hydrant they tried to use was frozen," Unger said. His crews could only use water from their trucks at first, he said.
There are areas of the board of education building that were untouched by flames. Unger credits closed doors for saving those rooms. He also praised his firefighters, some spent 40 minutes inside the burning building.
"They tried their hardest to keep it in tact, but once it got into the walls, it wasn't safe for them to continue."