This is an archived article and the information in the article may be outdated. Please look at the time stamp on the story to see when it was last updated.
WICKLIFFE, Ohio– The Wickliffe Police Department is investigating a smash-and-grab robbery that happened earlier this week.
Police said the incident occurred at the Sunoco on Euclid Avene near East 291st Street in the early-morning hours Monday.
The thieves used a stolen minivan to smash into the front of the store, causing a significant amount of damage to the building. According to the police report, the only thing missing was the ATM.
The red Dodge Caravan was stolen from Garfield Heights two days prior.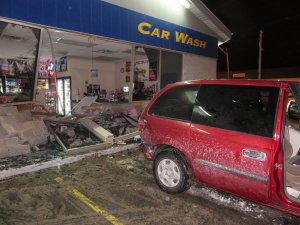 Officers collected several pieces of evidence from the scene, which were sent to the Lake County Crime Lab.
Wickliffe police said this is the second ATM smash-and-grab in the city this year.
More stories on ATM smash-and-grab robberies in Northeast Ohio here