This is an archived article and the information in the article may be outdated. Please look at the time stamp on the story to see when it was last updated.
WARREN, Ohio –  Tiffany Knepper is in disbelief. She says when all is quiet around her, and  she closes her tear-filled eyes, she can still hear the voice of  her 18-year-old daughter, Alesha Bell.
"I still hear her; I still smell her," Knepper told Fox 8 News, during an interview at her Warren home Thursday.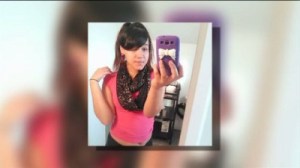 Knepper says it's hard for her to believe that the human remains found in the backyard fire pit of an Ashtabula County home have been confirmed to be her daughter.
"Through forensic testifying it's 99.9 percent," Ashtabula Sheriff Bill Johnson said during a press conference.
Bell went missing in July and her mother said she knew something was wrong when a full day went by without hearing from her.
She said Bell, a mother of a two-year-old, would never leave her son for long.
"She loved her son so much; she would never stay away from her son for this long, never, never," Knepper said.
The remains were found during a drug raid at James Brooks' home.  Brooks was arrested on several charges including abuse of a corpse, and more charges could be coming.
Knepper said she went to school with Brooks, and that Bell has known him for many years.
"She trusted him," Knepper said.
Ashtabula Prosecutor Nick Iarocci said that during a preliminary hearing held  for Brooks last week, an Ashtabula deputy testified that Brooks admitted to being with Bell but denied that Bell was ever at his house.
When asked if she would want to say anything to  Brooks, this was Knepper's response: "Why," Knepper asks, with tears streaming down her face. "Why? Just why?"