This is an archived article and the information in the article may be outdated. Please look at the time stamp on the story to see when it was last updated.
WESTERVILLE, Ohio — The central Ohio city where two officers were shot and killed in the line of duty on Saturday is thanking the community for "the outpouring of love and support" it has received.
In a Facebook post Sunday evening, the city of Westerville wrote "We are profoundly grateful for the outpouring of love and support for our #Westerville Division of Police officers, communications and support staff."
The post included a picture of a Westerville police cruiser covered with flowers, balloons, stuffed animals, and candles.
"While our hearts are broken, we remain #WestervilleStrong," the post continued. "Please keep the families of Officers Morelli and Joering in your thoughts."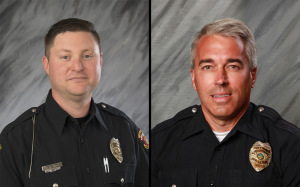 Westerville police officers Eric Joering and Anthony Morelli were killed Saturday while responding to a 911 hang-up call.
The officers shot and critically wounded the accused shooter.
Quentin Smith, 30, is charged with two counts of aggravated murder.