This is an archived article and the information in the article may be outdated. Please look at the time stamp on the story to see when it was last updated.
CLEVELAND-- The remains found in Lake Erie on Friday in the search for a missing plane are human, Cuyahoga County Medical Examiner Dr. Thomas Gilson said Tuesday.
The Cessna Citation 525 disappeared shortly after taking off from Burke Lakefront Airport on Dec. 29. Six people were on board, heading to the Ohio State University Airport in Columbus.
Gilson said the remains were identified as belonging to a human male using DNA, not visual inspection.
Burke Lakefront Airport Commission Khalid Bahhur said one debris field is about the size of the football field with four dive sites. On Monday, teams recovered portions of the fuselage, an engine, several seats, a wheel and a canopy with window attached. The largest piece is about 20 feet long, Bahhur said. Officials believe the plane broke apart on impact based on the debris that was recovered.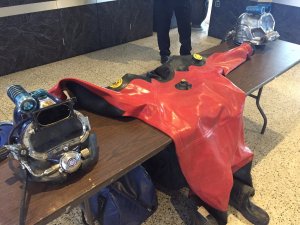 Divers did not go out on the water Tuesday because of weather conditions. Bahhur said they plan on one to three more days of searching this week to continue with the recovery efforts.
On Monday, teams found what appears to be portions of the fuselage and seats. More than 170 pieces of debris, including the cockpit voice recorder, personal items and clothing, have been recovered since the plane went missing.
The plane was flown by President and Chief Executive Officer of Superior Beverage John Fleming. It was also carrying Fleming's wife Sue, their two children Jack and Andrew, as well as neighbor Brian Casey and his daughter Megan.
Memorial services for the Fleming family were held Monday at the Canfield Presbyterian Church in Canfield. Services were also held Tuesday afternoon at the Liberty Presbyterian Church in Delaware.
More stories on the plane crash here