This is an archived article and the information in the article may be outdated. Please look at the time stamp on the story to see when it was last updated.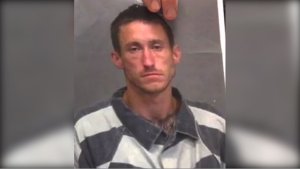 WOOSTER, Ohio — Wayne County authorities are searching for a man accused of shooting at several officers during a police chase overnight.
None of the officers were injured.
According to the Wayne County Sheriff's Office, the suspect is James "Bubba" Schmidt.
According to a press release, around 1:30 a.m. Wooster police received information that Schmidt was seen at WalMart, 3883 Burbank Road. They went to the area in an attempt to apprehend Schmidt, who they'd been searching for the past several weeks.
When he saw officers, he reportedly got into a vehicle with a female inside and led officers on a high speed pursuit through Wayne County.
At one point during the pursuit, he fired at officers, striking several police cruisers, according to the release.
The pursuit led to the Orrville area, where Schmidt ran his car off the road and engaged the officers with additional gunfire.
According to the Wayne County Sheriff's Office, he then is accused of running away, breaking into a home and stealing the keys to an SUV. He then went into an unattached garage and drove the SUV through the structure. 
The SUV is described as a 2006 GMC Envoy with license plate EKS 2816. There will be heavy damage to the back of the vehicle.
Schmidt is described as being armed and dangerous.
His last known address is 9541 Back Orrville Road in Orrville. He is 5'5″ tall, weighs around 135 pounds and has brown hair and brown eyes.
He currently has multiple felony warrants for his arrest including:
Assault
Aggravated Menacing
Improper Handling of a Firearm in a Motor Vehicle
Carrying a Concealed Weapon
Weapons Under Disability
Resisting Arrest
Obstruction of Official Business
Anyone with information on his whereabouts is asked to call the Wooster Police Detective Bureau at 330-287-5720.