This is an archived article and the information in the article may be outdated. Please look at the time stamp on the story to see when it was last updated.
CHIPPEWA TWP., OH – UPDATE: No word yet on the whereabouts of the mom.
Karley Baker, 2,  her mother Tianna Celetti and grandmother Dana Ross were reported missing from their home late Saturday evening by a family member who has custody of Karley. Karley was dropped off to visit her mother on Friday.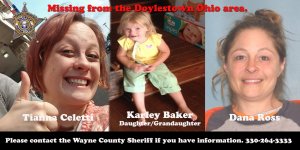 According to the sheriff, there is an outstanding arrest warrant out for Celetti.
Deputies were called out to that same home earlier in the day after a report of a deceased 28-year-old man inside. Officials are still investigating, but a drug overdose is suspected.
The three missing women may be driving a blue Ford Explorer with the license plate GGR1138.
Anyone with any information at all about them is asked to call the Wayne County Sheriff's office at 330-264-3333.