This is an archived article and the information in the article may be outdated. Please look at the time stamp on the story to see when it was last updated.
INDEPENDENCE, OH – Now that he is officially back with the Cavs, the power forward is back on the practice court.
Fox 8 sports producer Nick Kovach shot video of Thompson at practice on Friday. Watch it in the video boxes above.
Thompson re-signed with the team Thursday. The deal is reportedly for 5 years and worth $82 million dollars, but the Cavaliers will not release that information.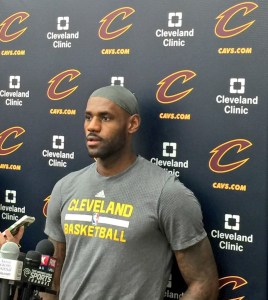 Last season for the Cavaliers, Thompson, 24, played in 82 games, starting 15 of them.
He averaged 8.5 points, 8 rebounds and .5 assists per game.
Cavaliers coach David Blatt said LeBron James "absolutely" will be ready for the season opener. James, who got an anti-inflammatory shot in his back last week, didn't play in the final four preseason games.
The Cavaliers regular season begins next Tuesday when they travel to Chicago to take on the Bulls.