This is an archived article and the information in the article may be outdated. Please look at the time stamp on the story to see when it was last updated.
SAN ANTONIO, Texas (CNN/KSAT) -- A military mom comes home and surprises her eighth-grader son -- at his basketball game.
The two hadn't seen each other for eight months, including over football season and the holidays.
The reunion came just one hour after Lt. Col. Cotina Jenkins-Sellers landed back at home; she headed straight for his game.
The refs called a fake technicality on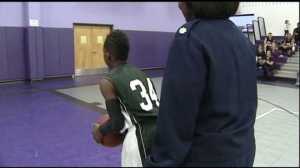 the coach. Then her son, Derrick, went to the line for two free throws, and his mom sneaked up behind him.
After his first shot, he turned around, and there was his mom.
The gym filled with cheers and tears.
Watch their emotional reunion in the video player above.
For more on this story, click here.