This is an archived article and the information in the article may be outdated. Please look at the time stamp on the story to see when it was last updated.
PARKLAND, Fla. —    A Florida judge has ordered that the suspect in a deadly shooting rampage at a high school will be held without bond on 17 counts of murder.
Nineteen-year-old Nikolas Cruz was wearing an orange jumpsuit with his hands cuffed at his waist during the Thursday afternoon hearing. His attorney did not contest the order and had her arm around Cruz during the brief court appearance.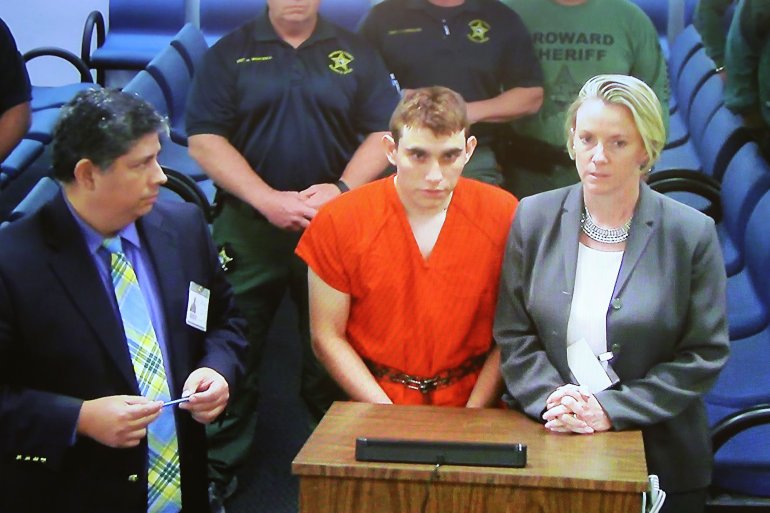 Months before authorities say  Cruz walked into his former high school and slaughtered 17 people, the troubled teen began showing what may have been missed warning signs he was bent on violence.
"Im going to be a professional school shooter," a YouTube user with the screen name "Nikolas Cruz" posted in September.
The 19-year-old had gotten expelled from Marjory Stoneman Douglas High School. A former Junior ROTC cadet, he bought a military-style AR-15 carbine. And he began to participate in paramilitary drills with a white nationalist organization, according to its leader, Jordan Jereb.
Jereb, leader of Republic of Florida, told The Associated Press on Thursday that his group seeks to create a white state. He said he didn't know Cruz personally but was told the young man had "trouble with a girl," and he suggested the timing of the Valentine's Day attack wasn't a coincidence.
A law enforcement official says he knows of "no known ties" between the suspect who confessed to a deadly mass shooting at a Florida high school and a white supremacist group.
Lt. Grady Jordan is a spokesman for the Leon County Sheriff's Office in Tallahassee, where the white nationalist militia known as the Republic of Florida is based. Jordan said Thursday that his office has arrested militia leader Jordan Jereb at least four times since January 2014 and has been monitoring the group's membership.
He says his office has "very solid" information on the group and "there's no known ties that we have that we can connect" Cruz with the group.
Students and neighbors reported that Cruz threatened and harassed others, talked about killing animals, posed with guns in disturbing photos on social media, and bragged about target practice in his backyard with a pellet gun.
In fact, students weren't surprised when Cruz was identified as the gunman in Wednesday's rampage, said 17-year-old Dakota Mutchler.
"I think everyone had in their minds if anybody was going to do it, it was going to be him," Mutchler said.
Benjamin Bennight, a Mississippi bail bondman, was concerned enough after seeing the "professional school shooter" comment on his Youtube channel that he took a screenshot of it on his phone and called the FBI. Two FBI agents visited Bennight the next day.
The FBI said it never spoke to the Florida teen.
"No other information was included in the comment which would indicate a particular time, location or the true identity of the person who posted the comment," said Brett Carr, a spokesman for the FBI office in Jackson, Mississippi. "The FBI conducted database reviews and other checks but was unable to further identify the person who posted the comment."
Math teacher Jim Gard told The Miami Herald that before the shooting rampage, Cruz may have been identified as a potential threat. Gard said he believes the school had sent out an email warning teachers that Cruz shouldn't be allowed on campus with a backpack.
"There were problems with him last year threatening students, and I guess he was asked to leave campus," Gard told the newspaper.
Student Victoria Olvera, 17, said that Cruz had been abusive to his ex-girlfriend and that his expulsion was over a fight with her new boyfriend. Cruz had been attending another school in Broward County since the expulsion, school officials said.
Jonathan Guimaraes, 17, told the Herald that he had been in JROTC with Cruz. "He was quiet, nice," Guimaraes said. "That's how he was able to blend in. He was wearing his JROTC uniform."
Cruz had on a maroon polo shirt bearing an ROTC insignia and the school's eagle mascot when he was arrested.
Cruz was an orphan — his mother, Lynda Cruz, died of pneumonia Nov. 1, neighbors, friends and family members said, according to the Sun Sentinel. Cruz and her husband, who died of a heart attack years ago, adopted Nikolas and his biological brother, Zachary, after the couple moved from Long Island in New York to Broward County, Florida.
The boys were left in the care of a family friend after their mother died, family member Barbara Kumbatovich, of Long Island, said.
Unhappy there, Nikolas Cruz asked to move in with a friend's family in Broward County. The family agreed, and Cruz moved in around Thanksgiving.
According to lawyer Jim Lewis, who represents but did not identify the family, they knew that Cruz owned the AR-15 but made him keep it locked up in a cabinet and never saw him go to a shooting range with it. He did have the key, however.
Cruz passed a background check and legally purchased the assault weapon from a licensed dealer in February 2017, a law enforcement official not authorized to discuss the investigation publicly told the AP on condition of anonymity.
The family is devastated and shocked, lawyer Lewis said. During the three months Cruz lived there, he was respectful and quiet but also sad over his mother's death, Lewis told the AP.
"No indication that anything severe like this was wrong," Lewis said. "Just a mildly troubled kid who'd lost his mom. … He totally kept this from everybody."
Longtime Cruz family neighbors Malcolm and Christine Roxburgh told the Sun Sentinel that the police came to the boy's house many times because he used to get in trouble and harass people. Malcolm Roxburgh said a neighbor across the street kept pigs, and Nikolas Cruz targeted the family.
"He didn't like the pigs and didn't like the neighbors, so he sent over his dog over there to try to attack them," Roxburgh said.
His wife said she once caught Nikolas peeking in her window.
"I said, 'What are you doing here?' He said he was looking for golf balls. I said, 'This isn't the golf course,'" she said.
And, the couple said, when the boy didn't want to go to school, he would bang his head against a concrete wall. They were scared of him. "He could have killed any of us," Christine Roxburgh said.
Cruz was getting treatment at a mental health clinic for a while but hadn't been there for more than a year, Broward County Mayor Beam Furr said in an interview with CNN.
"It wasn't like there wasn't concern for him," Furr said. "We try to keep our eyes out on those kids who aren't connected. … In this case, we didn't find a way to connect with this kid."
Investigators said they are dissecting Cruz's disturbing social media posts, without elaboration. But fellow students said they recognized Cruz from an Instagram photo in which he posed with a gun in front of his face.
Mutchler recalled Cruz posting on Instagram about killing animals and said he had talked about doing target practice in his backyard with a pellet gun.
"He started going after one of my friends, threatening her, and I cut him off from there," Mutchler said.
But Broward County School District Superintendent Robert Runcie said he did not know of any threats against the school from Cruz.
"Typically you see in these situations that there potentially could have been signs out there," Runcie said. "I would be speculating at this point if there were, but we didn't have any warnings. There weren't any phone calls or threats that we know of that were made."