This is an archived article and the information in the article may be outdated. Please look at the time stamp on the story to see when it was last updated.
AKRON, Ohio -- Warrants have been taken out against a man who was injured in a house explosion in Akron last week.
According to municipal court records, charges listed against Rodney Hylton are aggravated arson, which is a first-degree felony, and arson, which is a fourth-degree felony.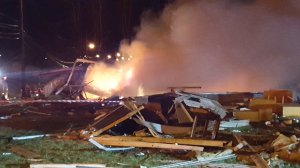 Hylton lived at the property on Courtland Ave. that exploded last Tuesday. The explosion leveled the home and could be heard for miles.
He suffered serious injuries and is still in the hospital.
According to a police report, Hylton admitted to turning on the gas burners of the stove and taking the gas cap off the gas line in the basement that was used to supply the old gas hot water heater. He said it was done in an attempt to harm himself.
Stay with FOX 8 News and FOX8.com for more information as it becomes available. Read more, here.