This is an archived article and the information in the article may be outdated. Please look at the time stamp on the story to see when it was last updated.
​​
COLUMBUS- Ohio Attorney General Mike DeWine has won the Republican primary for governor, sending one of the state's best-known politicians into the fall contest to succeed term-limited Republican Gov. John Kasich.
DeWine's victory Tuesday leaves him damaged from a bitter and nasty primary in which Lt. Gov. Mary Taylor likened him to Democrats Barack Obama and Hillary Clinton and questioned his loyalty to President Donald Trump.
The 71-year-old DeWine is a moderate Republican who served two terms in the U.S. Senate. But Taylor forced him to tack to the right to win the GOP nomination.
DeWine was endorsed by the Ohio Republican Party and was bolstered by his partnership with Republican Secretary of State Jon Husted, who dropped his own governor bid to become DeWine's running mate.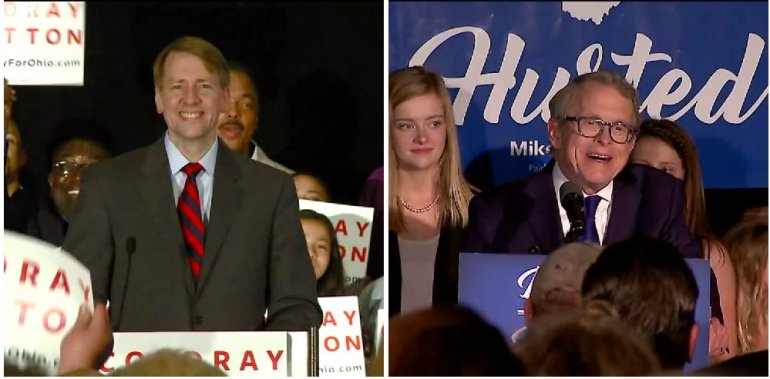 Obama-era consumer agency head Richard Cordray has won the Democratic nomination for Ohio governor despite a surprisingly rigorous challenge from former U.S. Rep. Dennis Kucinich.
Tuesday's win by the former consumer watchdog under President Barack Obama buoys Democratic hopes of reclaiming control of a critical battleground state, where Republican Gov. John Kasich is term-limited.
Cordray led the Consumer Financial Protection Bureau under Obama and President Donald Trump. He featured Obama in his ads and campaigned with Massachusetts U.S. Sen. Elizabeth Warren, who created the bureau.