This is an archived article and the information in the article may be outdated. Please look at the time stamp on the story to see when it was last updated.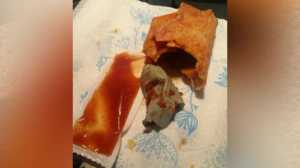 MIDLAND, Texas (KWES) -- A woman from Texas got more than she paid for in a burrito she purchased from a convenience store.
Cynthia Corrigan paid 86 cents for a fried burrito at Stripes Convenience Store.
After taking a few bites, she noticed a "blue speck." It turned out to be the finger of a latex glove.
She called the store, which said the burrito was prepackaged and supplied by a third-party vendor.
That company's management team has been in direct contact with Cynthia since they got word of what happened, according to KWES. They also said they work hard to make sure customers receive safe and fresh food.
For much more on this story, click here.