This is an archived article and the information in the article may be outdated. Please look at the time stamp on the story to see when it was last updated.
Whether it's at a concert, out to dinner, or running into a celebrity, we are all guilty of trying to take a perfect selfie.
But one man's selfie-gone-wrong was all caught on camera!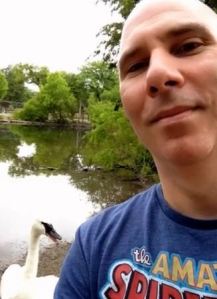 On his YouTube account, Steven Takata writes that his brother-in-law got a little too close for his selfie with the trumpeter swans at the Great Bend Zoo in Kansas.
While framing up the picture, the swan attacked, wanting nothing to do with the photo!
The man had a big mark on his back from the swan, but seemed to laugh off the incident.
In case you're wondering, he did get the selfie.