This is an archived article and the information in the article may be outdated. Please look at the time stamp on the story to see when it was last updated.
CLEVELAND, Ohio-- The FOX 8 I-Team has obtained video of what police call a street race on West 25th in Cleveland that resulted in the death of a man in a wheelchair and a fiery crash.
It happened late last Thursday night. Security video from a nearby store shows two cars side-by-side zooming down West 25th. And the video shows John Kudryk in his wheelchair going down the street. One vehicle barrels into Kudryk killing him instantly. But the two cars keep going until a crash after continuing for a short distance. At the moment of that crash, you see a bright flash of light.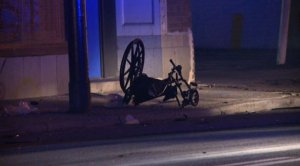 Cleveland accident investigators believe the cars were speeding at up to 60 mph in a 25 mph zone. Police arrested Deonica Pannell. They believe she was high on drugs or alcohol.
Police say the second driver ran off. Investigators are now using scientific evidence from the scene and more to try to ID that second driver.
Police also say a passenger in Pannell's car was badly hurt. As of late Monday, that passenger was still in the hospital.
It seems everyone in the area knew John Kudryk. Asia Sanders works at a corner store, and she said, "Just sad that that's how he ended his life."
At a court hearing Monday, a judge set bond for Pannell and sent the case to a grand jury.
On West 25th, folks are hoping that chilling security video will help lead to justice.