This is an archived article and the information in the article may be outdated. Please look at the time stamp on the story to see when it was last updated.
PARMA, OH – Police have released the name of the gas station owner who was shot and killed during a robbery Saturday night.
50-year-old Robert Sposit, of Parma, was found dead inside his Sunoco Gas Station on Pearl Road at around 7:30 p.m. Police were called to the scene after witnesses heard shots being fired. They learned that Sposit and the suspect in the robbery had exchanged gunfire, after which the suspect fled the scene in a car.
The suspect was found hiding in a house on West 46th Street. Parma SWAT teams were called out and he surrendered to them without incident. He was taken to MetroHealth Medical Center for treatment of gunshot wounds. His status is not known and police will release his identity once he is released from the hospital and charges are filed.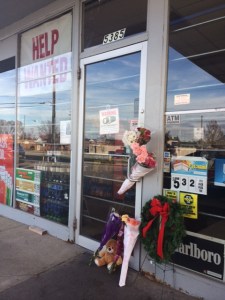 On Sunday morning, a memorial had been started at the gas station. Neighbors and friends of Sposit had nice words to say about him.
"He was a well-known in neighborhood great guy –everyone in this crowd says 'we just talked to that guy yesterday' and 'such a shame it was just before Christmas,'" said John Biggins, who knew the victim.
"This place has been robbed three times –he was so nonchalant about the robberies and he said the next time he was going to put up bullet proof glass– he should have done it."