This is an archived article and the information in the article may be outdated. Please look at the time stamp on the story to see when it was last updated.
STRONGSVILLE, Ohio– A VFW Post in Strongsville posted a sign that says it will no longer televise Cleveland Browns games.
Tim Zvoncheck of Post 3345 shared a photo of the sign with FOX 8. It says:
"We like our Browns – we love our flag more. Your games will no longer be shown here. God Bless America!"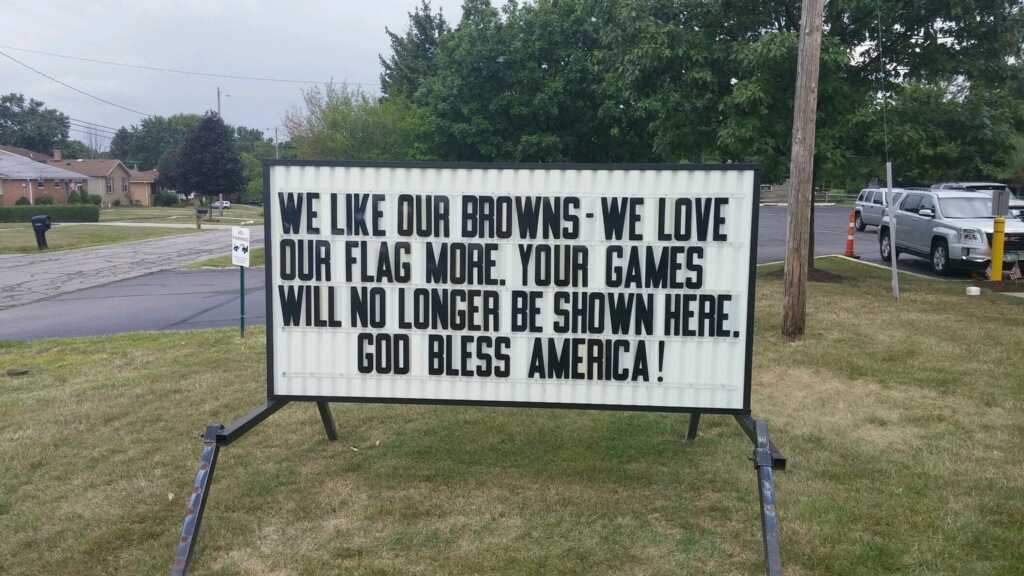 The decision by a dozen Browns players to kneel during the National Anthem before Monday's football game has caused a lot of controversy.
Among those speaking out about it is the fiancée of Akron officer Justin Winebrenner; he was killed during a shooting at an Akron bar.
Winebrenner was a Cleveland Browns season ticket holder and a lifelong fan. That's why his fiancée, Tiffany Miller, is so upset by Browns players choosing to kneel during the national anthem.
She shared her disappointment in a Facebook post.
Another person speaking out against the Browns is an Ohio Supreme Court justice. Justice Bill O'Neill wrote on Facebook he won't attend any games at which "draft dodging millionaire athletes disrespect the veterans who earned them the right to be on that field." He said Tuesday "shame on you all."
One of the players to kneel, tight end Seth DeValve, said he wanted "to pray for our country."
Browns linebacker Christian Kirksey talked to FOX 8 News on Tuesday, and said, "Respect to all the veterans, respect to the military — we are not protesting against them.  We have our reasons for doing what we did, and last night felt like the right time to do it, and that's why we did it."
The protest was the largest in a social-consciousness movement started last season by San Francisco 49ers quarterback Colin Kaepernick, currently a free agent.