This is an archived article and the information in the article may be outdated. Please look at the time stamp on the story to see when it was last updated.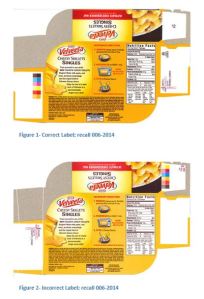 WASHINGTON — About 1.77 million pounds of shelf-stable pasta and ground beef products are being recalled because their labels do not reflect the allergens they contain.
The item in question is the "Kraft Velveeta Cheesy Skillets Singles – Ultimate Cheeseburger Mac."
The Used By/Sell By date code is 02 MARCH 2014 – 23 OCT 2014 with the following identifying case codes: 00210000432900, 00210000432910, 00210000432925, 00210000464000 and 00210000465100.
There were 3.3-pound cases containing six 9-ounce microwaveable containers.
The products contain hydrolyzed soy protein and dried soy sauce.
The company believes there was a mix-up with the label supplier.
No other Velveeta or Kraft products are impacted by the recall and there were no reactions reported.
Anyone with questions may call the Kraft Foods Consumer Relations Center at 1-800-396-5512.  General food safety questions may be directed to the virtual representative by clicking here (mobile users click here).