This is an archived article and the information in the article may be outdated. Please look at the time stamp on the story to see when it was last updated.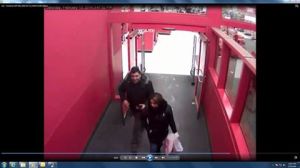 UNIVERSITY HEIGHTS, OH – University Heights police are looking for the people pictured in the above photos in connection with a stolen wallet and a huge shopping spree shortly after at a local Target.
Police say that on February 13th, sometime between 3 and 4 p.m., a woman who was shopping at Whole Foods had her wallet stolen from her purse. Within minutes, the suspects had gone to the nearby Target. While there, they bought nearly $8,000 worth of merchandise.
Police are asking that anyone who can identify the people in the photos call them at 216 932 8799, x240.