This is an archived article and the information in the article may be outdated. Please look at the time stamp on the story to see when it was last updated.
TAMPA, Florida — The University of Tampa has fired a visiting assistant professor who suggested in a tweet that Hurricane Harvey's destruction is "instant karma" for Texas because it voted Republican.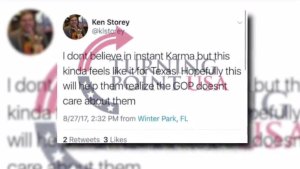 Sociology professor Kenneth L. Storey posted the tweet and two responses on Sunday before removing the entire thread and his profile photo.
University spokesman Eric Cardenas said in a statement Tuesday that Storey was fired after the school weathered an outpouring of online outrage over the comments.
The Tampa Bay Times reports Storey issued an apology on Monday, writing that he "never meant to wish ill will upon any group."
In a Facebook post on Monday evening, the university said it "stands in solidarity with the people impacted by Hurricane Harvey."
https://twitter.com/UofTampa/status/902554331106435077
Officials said another sociology professor will take over Storey's classes.