This is an archived article and the information in the article may be outdated. Please look at the time stamp on the story to see when it was last updated.
PARMA, Ohio– This isn't your average deer.
A FOX 8 viewer spotted a piebald deer near the West Creek Reservation in Parma on Wednesday.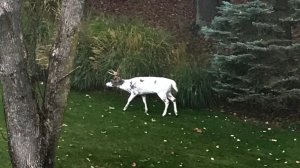 "We often see some animals in our backyard, such as turkeys, deer, groundhogs. We hear coyotes sometimes, but this is by far the oddest thing I have seen," Anastasia Kowalski said.
According to the Cleveland Metroparks, which posted a photo of a piebald deer last year, the coloration is caused by a genetic variation that happens in less than 1 percent of white-tailed deer.
The Quality Deer Management Association said these types of deer can have other issues, like shortened or crooked legs, or curved spines.
Piebald deer are more common than albino deer, which lack the genes responsible for pigmentation.