This is an archived article and the information in the article may be outdated. Please look at the time stamp on the story to see when it was last updated.
BARBERTON, OH -- Two men have been arrested in the New Year's Eve shootings that killed a man and two teens in Barberton.
Michael Deon Hendon, 22, and his brother, Eric Donta Hendon, 30, were placed under arrest. Both are charged with three counts of Aggravated Murder and are currently in the Summit County Jail.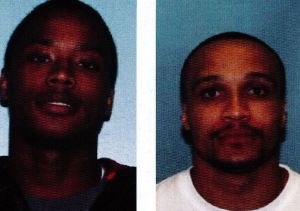 According to police, the suspects went to the home on 7th Street NE to rob the residents of drugs and money. Information and evidence collected by authorities led to their arrest.
Police responded to a call for help on 7th Street NE around 6:50 p.m. on New Year's Eve. When police arrived, they found four people shot inside the home.
Friday, the deaths of Ashley Carpenter, 18, and David Kohler-Carpenter, 14, were officially ruled homicides. The teens were visiting their father, John Kohler, 42, at his home.
Kohler died from his injuries around 3:45 p.m. Friday at Akron City Hospital.
His girlfriend, Rhonda Blankenship, 38, was also shot, but survived.
The victims' mother, Leiha Carpenter tells Fox 8 she does not know the suspects. She is grateful for the arrests, but is devastated by the deaths of her children.
"They were great kids, loved by everybody. That's why we can't find a place to hold their funeral, there isn't a place big enough," said Carpenter. "Those kids were my whole life.  Right now I don't feel anything.  I feel like my whole world has been taken away from me."
Hundreds braved the cold weather Friday night to remember the victims at a vigil. Many made signs while others held candles. Some even took turns sharing memories of the siblings.
"We were all in shock because of everything that happened. The kids spent a lot of days at that house," said Haleina Pouncey.
"I'm just glad there was some justice made tonight, but that doesn't bring the kids back," said Jeremy Pouncey.
Click here for continuing coverage on this story.