This is an archived article and the information in the article may be outdated. Please look at the time stamp on the story to see when it was last updated.
WARNING: The images below could be considered disturbing
LORAIN, Ohio– Two people were charged after Lorain police say they severely neglected two dogs.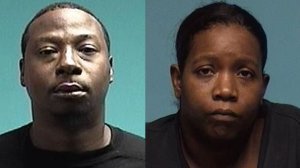 Morris Ellison, 36, and Amanda Pippens, 34, face charges of abandoning animals and cruelty to companion animals. They were arrested on Wednesday then appeared in Lorain Municipal Court.
Lorain Officer Rick Broz was called to a house on Washington Avenue in Lorain on Aug. 20 for a report of a sick and skinny dog. According to the police report, the brindle pit bull's ribs and hip bones were visible. He was unable to stand or walk.
The officer found a second pit bull, which was less than a year old and extremely emaciated.
Both animals were taken to the Lorain Animal Clinic, where the one died a few days later.
Police said Ellison and Pippens moved out of the house in the middle of the night and left the dogs behind.