This is an archived article and the information in the article may be outdated. Please look at the time stamp on the story to see when it was last updated.
SAN FRANCISCO, Calif. – The transfer of power on Twitter hasn't gone entirely smoothly.
The social media platform says it's looking into complaints from angry users who say they were unwittingly added as followers of the @POTUS account after President Donald Trump's team took it over on Friday.
"We are investigating," Twitter CEO Jack Dorsey told one irate user late Friday.
The company's @support account also responded, saying it was aware of "the issue with migrating @POTUS followers." That tweet received hundreds of replies and nearly 3,000 retweets.
The complaints from users created an unexpected headache for Twitter, which had carefully planned for the handover of handles for official accounts like @POTUS, @FLOTUS, @VP, @WhiteHouse and @PressSec.
Some Twitter users said that after the inauguration, they'd also found themselves added as followers of some of those other accounts without having chosen to do so.
Early Saturday, Twitter's @support account said the company was still trying to figure out what had happened.
"We continue to work on the investigation and fix for the @POTUS migration," it tweeted. "Stay tuned!"
A Twitter spokesman said that some people may have unfollowed the @POTUS account too late. If they did so right before noon ET on Friday, they probably would have still been included in the millions of accounts that were moved over to Trump's @POTUS.
Under the Twitter transition, all of the official tweets from the Obama administration were removed and archived on a set of newly created accounts, including @POTUS44, @VP44 and @FLOTUS44.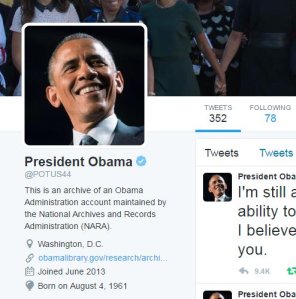 People who were following @POTUS and other key accounts under Obama will automatically be following the archived accounts and the official accounts of Trump and his administration — at least until they opt out.
But some angry users insisted they had found themselves suddenly following Trump's @POTUS even though they hadn't followed the account under Obama in the first place.
"You added @POTUS and @FLOTUS to me; I'd never followed either acct before," said the user @ZenHeathen in a response to the Twitter support post.
The Twitter spokesman said some people might have followed the account in the past and forgotten about it before Friday.
In his interactions with upset users, Dorsey said the switch "should have only migrated followers of original POTUS."
Saturday afternoon, the @support account retweeted this from Dorsey, who seems to say that they figured out what happened:
All: we investigated what happened here, and we made some mistakes (which have been corrected). Some context first. https://t.co/W1n3Xs6LaN

— jack 🌍🌏🌎 (@jack) January 21, 2017
Trump's team, meanwhile, has been putting his new @POTUS account to use.
By early Saturday, it had tweeted four times with photos from the inauguration.
Its sole retweet was of a post by @realDonaldTrump, the personal account Trump has been using for years.
On Saturday morning, both @POTUS and @POTUS44 had 14.2 million followers.
**More coverage on President Donald Trump, here**