This is an archived article and the information in the article may be outdated. Please look at the time stamp on the story to see when it was last updated.
SAN FRANCISCO,  California – Actor John Stamos paid a visit to his television series home on Friday, and some fans totally missed it!
The New York Daily News reports that Stamos was posing for pictures in front of the house, while some fans of his show "Full House" were right behind him – oblivious to his presence!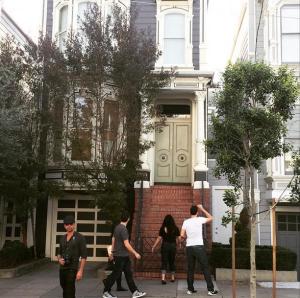 Stamos posted the picture on his Instagram page. In it, you can see him  standing on the sidewalk near the residence while some fans are seen closer to the foot of a flight of brick stairs leading up to the townhouse. The house is occupied and gated off, due to the popularity of the spot.
Here's what he had to say about the moment: "Boy, these youngsters have 0.0 idea what they're missing," he wrote. "#Fullhousehouse. #TURNAROUND."
[ndn  id = 28694077]
The 51-year-old Stamos played Uncle Jesse on the show, which ran in the 80's and 90's.  Only exterior shots of the house were used for the series. The interior was actually a  Los Angeles soundstage.