This is an archived article and the information in the article may be outdated. Please look at the time stamp on the story to see when it was last updated.
TULSA, Okla.– Tulsa police officer Betty Shelby has been charged with felony manslaughter in the first degree, Tulsa County District Attorney Steve Kunzweiler told reporters Thursday.
Shelby fatally shot 40-year-old Terence Crutcher after his SUV stopped in a roadway last week.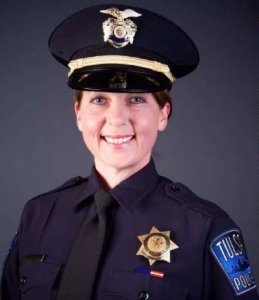 "We reviewed the facts of the allegations, it is our responsibility to determine if the filing of a criminal charge is justified under the law," Kurnzweiler said.
An arrest warrant was issued for Shelby and arrangements have been made for her surrender, he said.
The criminal complaint against Shelby said her "fear resulted in her unreasonable actions which led her to shooting" Crutcher. She is accused of "unlawfully and unnecessarily" shooting Crutcher after he did not comply with her "lawful orders."
Attorneys for Crutcher's family said they were "happy charges have been brought" against the officer and they will be seeking a "vigorous prosecution."
The attorneys also expressed gratitude to the Tulsa Police Department.
"Today, we are thankful to TPD, we are thankful to (police) Chief (Chuck)Jordan for providing information to the District Attorney's office, and we are happy that charges were brought," attorney Damario Solomon-Simmons said during a news conference.
"This is a small victory," Crutcher's sister Tiffany told reporters.
"The chain breaks here. We're going to break the chains of police brutality," she added. "We know the history."
Shelby could faces a up to four years in prison if convicted.
Through her attorney Shelby has said Crutcher was behaving strangely and ignoring her commands, and she was afraid that he might be reaching for a weapon.
Multiple police cameras, including ones mounted in squad cars and in a helicopter, captured the Crutcher shooting on tape. In the video, Crutcher can be seen with his hands raised above his head prior to his death. He walks away from Shelby towards his car.
None of the video showed whether the vehicle window was open or closed.
There was no weapon found in the car.
Activists planned a rally Thursday night in Tulsa. In a tweet the group WethePeopleOkalhoma said, "There is still work to be done."
It all started after a 911 call Friday from a woman said an abandoned car was blocking the street and a man was running away. The man warned that it was going to blow up, the caller said.
Shelby was the first officer to arrive on the scene, though she was not responding to the 911 call. Her attorney said she was on her way to a domestic violence call when she saw Crutcher.