This is an archived article and the information in the article may be outdated. Please look at the time stamp on the story to see when it was last updated.
SINGAPORE - President Donald Trump and North Korean leader Kim Jong Un shared a historic handshake as they meet for the first time.
The two clasped hands for a long while Tuesday as they posed for photos in front of a row of U.S. and North Korean flags. Trump then directed Kim to walk down a hallway, where they briefly spoke.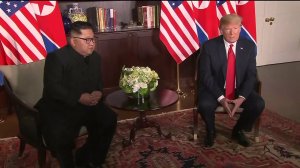 It's the first ever meeting between a sitting U.S. president and North Korean leader.
Trump is sounding optimistic about his ability to persuade North Korea to abandon its nuclear weapons program after a lengthy one-on-one meeting with leader Kim Jong Un.
Trump said Tuesday at the beginning of expanded discussions with aides from both countries that "We will solve a big problem" and "a big dilemma."
He talked about the pair achieving "tremendous success together" and predicts that "it will be successful. It will be done."
It was hard to hear the president and Kim over the constant clicking of camera shutters, and it remains unclear precisely what he was referring to.
But Kim appeared to echo the president's optimism.
Trump says that his one-on-one meeting with North Korean leader Kim Jong Un was "very, very good" and that the two have an "excellent relationship."
Trump and Kim met for about 40 minutes Tuesday one-on-one, joined only by interpreters.
Trump made the comments as he and Kim walked together along balcony as they headed to a larger meeting with aides.
Trump was flanked in the larger meeting by chief of staff John Kelly, Secretary of State Mike Pompeo and national security adviser John Bolton. They sat across the table from Kim and his team.