This is an archived article and the information in the article may be outdated. Please look at the time stamp on the story to see when it was last updated.
BROOK PARK, Ohio– Republican candidate Donald Trump visited Northeast Ohio on Labor Day.
Trump was with running mate Mike Pence at a morning round-table discussion with union members in Brook Park.
Trump talked manufacturing. "We will get our jobs back and we will stop companies from leaving. Trade is a one-way street and it's leading us to the poor house. We have to bring jobs back to this country or we are not going to have a country."
Brook Park Mayor Tom Coyne talked about lost jobs from Ford. Here's how Trump answered. "We are right now at 1% growth now. No jobs, no growth, really negative growth. If we can get it up to 4%– actually, I think we can get it higher than that. We are making it a much simpler tax system- will be one of the lowest taxed nations in the world, will bring jobs back."
Cleveland Police Union President Steve Loomis was also at the round-table discussion.  "On a national level, police departments are villainized. Hope your position is you are going to support law enforcement. City and Gov. Kasich are cutting budgets, on skeleton crews. The people who suffer the most are in the high-crime neighborhoods. I would hope that when you are in there you would take that into consideration," Loomis said.
Trump says he has heard that police departments are having trouble recruiting. Says Loomis has his support. "I'm very strong on law enforcement. We need law and order."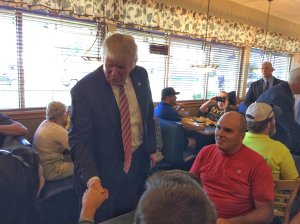 After the round-table discussion, Trump and Pence went to Goody's restaurant on Snow Road.
After leaving Brook Park, Trump stopped at the Canfield Fair in Mahoning County.
Both Hillary Clinton and Trump are expected to be frequent visitors to battleground Ohio over the next two months.
Clinton spoke at the Labor Day festival in Cleveland today.
Trump and Clinton's planes. Together in Cleveland. pic.twitter.com/VDw0wOytzU

— Dan Merica (@merica) September 5, 2016
No Republican has won the White House without winning Ohio and Trump is trying to overcome some splintering in the state party.
More You Decide 2016 coverage here.