This is an archived article and the information in the article may be outdated. Please look at the time stamp on the story to see when it was last updated.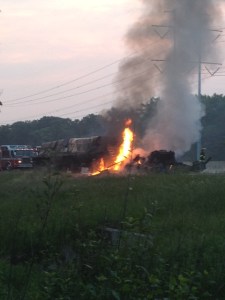 NORTH ROYALTON, Ohio– A portion of the Ohio Turnpike was shut down in North Royalton Tuesday night after a semi truck was involved in an accident and caught fire.
The Ohio State Highway Patrol said there was an explosion, but the truck was not hauling any hazardous materials. No one was injured.
All eastbound lanes were blocked in a two-mile area between Royalton Road and Broadview Road; a short time later, the left lane was re-opened.
TRAFFIC ALERT: Right & center lanes closed @ #OHTPK MP 169EB (Cuyahoga Co) due to commercial truck fire. Backup to MP 166 EB (3 miles).

— Ohio Turnpike (@OhioTurnpike) June 10, 2015
ALERT UPDATE: Left lane now open @ #OHTPK MP 169 eastbound (Cuyahoga Co). Right & center lanes remain closed due to truck fire.

— Ohio Turnpike (@OhioTurnpike) June 10, 2015
Keep it right here for updates.