This is an archived article and the information in the article may be outdated. Please look at the time stamp on the story to see when it was last updated.
AUBURN TOWNSHIP, Ohio- The Ohio State Highway Patrol says they've identified a suspect and vehicle in connection with the hit-and-run crash in Auburn Township over the weekend.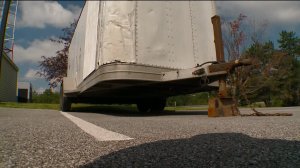 Brady Tucker, 26, of South Euclid, was participating in the VeloSano charity bike ride on Saturday. That's when he rode into a trailer being towed by a pick-up truck on Bartholomew Road. Trooper said Tucker failed to yield and will be cited.
Lt. Brant Zemelka said they received tips and tracked down the driver, James Zorn, 46, on Thursday. According to Zemelka, Zorn said he stopped at the crash and called 911, but then left.
He's charged with false statements, tampering with evidence, driving under suspension, fictitious registration and leaving the scene of the accident.
The cyclist was flown to MetroHealth Medical Center for treatment. He suffered a serious concussion and was released on Wednesday. His wife told the highway patrol he has a long recovery ahead of him.
Tucker, a medical student at Case Western Reserve University, and his wife are expecting their first child in August. A crowd-funding account was set up to help the Tuckers with medical expenses.