This is an archived article and the information in the article may be outdated. Please look at the time stamp on the story to see when it was last updated.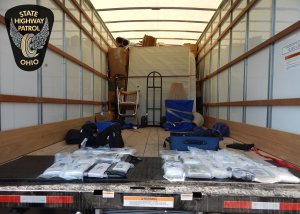 GUERNSEY COUNTY, Ohio — A North Carolina woman was arrested after troopers found over $3.7 million worth of heroin and methamphetamine in her truck during a traffic stop.
According to the Ohio State Highway Patrol, troopers stopped a rented 2018 Penske truck for a following too close around 10:30 a.m. Wednesday on Interstate 70 in Cambridge.
A drug-sniffing K9 alerted to the vehicle, and a search resulted in the discovery of 110 pounds of heroin and methamphetamine.
The driver, Ashley N. Tramonte, 27, of Marion, North Carolina, faces charges of possession of a controlled substance and trafficking in drugs.
If convicted, she could face up to 20 years in prison and up to a $40,000 fine.