This is an archived article and the information in the article may be outdated. Please look at the time stamp on the story to see when it was last updated.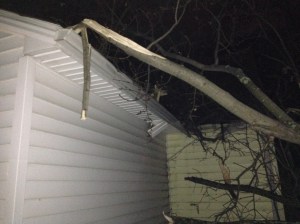 AVON LAKE, OH — The wind and rain were heavy on Sunday evening, and on the west side, one family had the weather situation intrude on their home.
The Walton family had a massive tree branch go through their home around 8:00 p.m. The family lives in Avon Lake on Inwood Boulevard.
The tree did damage on the outside of the home as well as the inside. There are many trees in the area and the branch fell from one in the back yard.
Thankfully, Holly Walton and her 17-month-old son Jonah were downstairs when the branch fell.
Her husband was at work. She told FOX 8 she had no idea what was going on because it all happened so fast.
"We were sitting on the couch watching TV and we heard an extremely loud noise and then we saw a hole poke through the roof with a branch sticking out and in the laundry room, there's a branch sticking through the ceiling," Walton said.
This could have been a lot worse, but Walton said regardless, she is happy she has insurance.
She was more worried for her son in the situation.
"It was extremely loud. He screamed and I got terrified and I ran to see what was wrong," she said.
Click here for continuing coverage on Sunday's storms.