This is an archived article and the information in the article may be outdated. Please look at the time stamp on the story to see when it was last updated.
CLEVELAND — Now that Michelle Knight, Amanda Berry and Gina DeJesus have escaped from captivity, their recovery is the next obstacle to conquer.
The women, now 32, 27 and 23 respectively, were held in a Seymour Avenue home on Cleveland's west side for the past decade.
Police said they were abused and raped throughout their ordeal.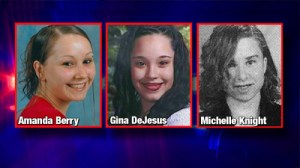 Their story of survival and strength has touched the masses and now there's concern about what's next for these women.
Kirsti Mouncey, the vice president of Programs and Clinical Services at the Cleveland Rape Crisis Center, talked about the healing process on Fox 8 News in the Morning.
"We're here to support you, we're so sorry this happened to you and how can we support you?  Those are the most important things to say (to the survivors)," Mouncey explained Friday.
Because everyone has a different reaction to trauma, it is impossible to predict what the recovery will be like for Knight, Berry and DeJesus.
Mouncey outlined three stages, beginning with the crisis stage, during which the survivors experience confusion and detachment.
An integration stage will follow, when the survivors return to a normal life by holding jobs and taking care of their families.
Finally, there is a healing and long-term recovery phase.
"When someone comes in to recover, or a trauma recovery, our focus is not on the story.  It's not our job to find out what happened or to hear about the details. It's about how is the person managing day to day, how are they coping?  And so we really want to support them in the day-to-day management in their coping and their functioning. Regaining life.  Living again," said Mouncey.