This is an archived article and the information in the article may be outdated. Please look at the time stamp on the story to see when it was last updated.
CLEVELAND -- Now that the controversial Q transformation plan is back on track, construction has already begun to renovate the arena.
September 15 was the deadline for work to begin in order for Cleveland to get a shot at hosting an NBA All-Star game.
A spokeswoman for the Cavaliers tells Fox 8 they are "moving very quickly" and will give more details on the construction progress in the future. Quicken Loans Arena opened in 1994, and although that does not seem that old, the Cavs say it is the oldest publicly-owned arena in the NBA.
The large cranes, the generators and the construction fences are popping up all around Quicken Loans Arena downtown.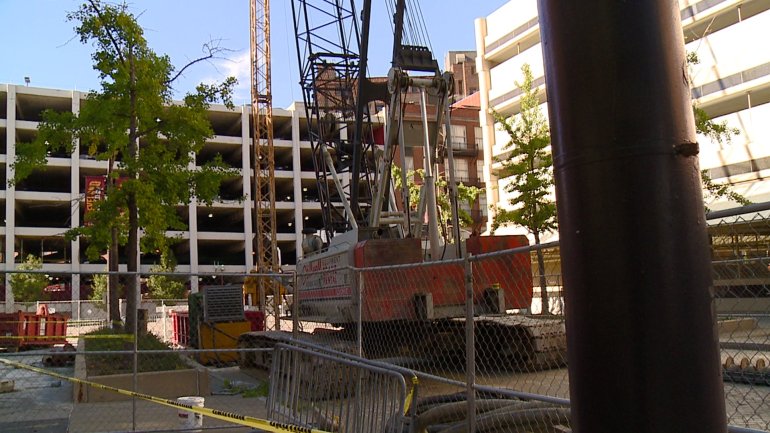 "I'm glad they already started so we can get the ball rolling. It's no different than construction anywhere else; you just work around it," said one woman, as she headed to dinner before the Cleveland Indians game.
A Cavaliers spokeswoman confirms that the construction equipment is part of the "Q Transformation Project." It's a multi-million dollar upgrade, designed to make the arena more modern, more visitor friendly and more competitive with arenas across the country for major events.
"Moving forward with LeBron, hopefully they make him happy so we can have a winning team," said another woman.
"It's amazing, but the fact that this one's just gonna change a little bit might take a little getting used to but, I think it's cool," said one Cavs fan.
Getting to this point was controversial. The Cavaliers agreed to pitch in $70 million for the project, with the other half coming from the city of Cleveland and Cuyahoga County, through bedding and admissions taxes.
The plan was scrapped after community groups, wanting more money for neighborhoods, won a ruling to allow voters to decide.
Cavs owner Dan Gilbert said the delay would make the project more expensive, and the NBA was not willing to wait to consider Cleveland for a 2020 or 2021 All-Star game.
"I think if we can have the All-Star game here, I think it would bring a lot more people down here and let people see how good Cleveland really is," said one downtown worker.
The NBA gave the Cavaliers until Friday to begin construction. Last week, after some negotiating, the deal was back on track.
"Anything that would bring the All-Star Game to Cleveland, that would be great," said another man.
The project also means the Cavaliers will agree to extend their lease at the Q until 2034.
The Cavs also say the transformation will bring about 2,500 jobs during the construction project, and 3,200 permanent jobs to the arena.