This is an archived article and the information in the article may be outdated. Please look at the time stamp on the story to see when it was last updated.
CLEVELAND -- A warning to drivers coming into downtown from the south and west sides of Cleveland: prepare for major Innerbelt changes coming next week.
For the very first time, FOX 8 cameras got 'to the top' of the reason for the change in an exclusive tour of the new Innerbelt Bridge.
"Things are happening fast and furious. We are on pace to get this bridge open by fall," said ODOT spokeswoman Jocelynn Clemings.
In the exclusive tour Thursday, FOX 8 cameras got a first-hand look at the nearly completed Innerbelt Bridge project right on top of the bridge.
"Our folks are working really hard pouring the concrete driving surface," said Clemings.
But in order to finish it, a series of traffic changes will take place.
"Coming up on October 5, there will be changes for folks coming into downtown. They will see that we are squeezed to two lanes inbound," said Clemings.
"I think it's going to be a big inconvenience. A lot of traffic jams, kind of like the Shoreway when they shut that down," said Billy Fronimo, a driver.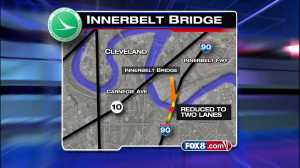 ODOT says to battle that, use I-490 to I-77 instead where they've even added an extra lane.
*** Click here for the Fox 8 traffic page ***
But that's not all.
"There's a tiny little ramp if you are on the Jennings Freeway heading north to I-71. Instead, you'll have to go I-490. You'll see that October 5 as well, but it's really easy. It only adds about a mile to your trip," added Clemings.
"This could make me late to school, and that's the one thing I don't want to be late for because I have to pay for that," said Kahdisha Dinkston, a student who commutes downtown.
While the Innerbelt Bridge project closes the final gap, drivers can't wait to move on and move forward.
"I think it's great for the economy. It will revitalize the city and improve traffic flows as we keep growing. I think it's a positive thing," said George Bilokonsky, a driver.
ODOT reminds drivers that the entrance to the Innerbelt Bridge is already closed on
E. 9th Street and Ontario Avenue. They recommend drivers use I-77 to I-490 to I-71 or I-90 to get west or south.
Click here for continuing coverage on this story.