This is an archived article and the information in the article may be outdated. Please look at the time stamp on the story to see when it was last updated.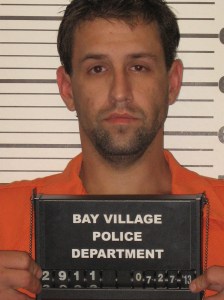 BAY VILLAGE, Ohio — A West Virginia man who was in Northeast Ohio to visit Cedar Point allegedly had more of an adventure outside of the park.
William Duran Morris is accused of leaving his hotel and stealing a vehicle in Amherst early on Saturday then traveling to Bay Village where his behavior became even more strange.
A resident on Wolf Road called the police to report someone trying to get inside her home using both her front and back door.
Responding officers found Morris, 31, in a screened-in porch of a neighbor's home.
The stolen vehicle was found in the backyard of another home three doors away.
The Bay Village Police Department said Morris had his dog with him at the time.
He also had the car owner's wallet and keys, which had been inside the car at the time it was stolen.
When Morris was taken to jail, he allegedly damaged a jail door.
He was charged with burglary, attempted burglary and receiving stolen property.  He may also face charges for felony vandalism.
The dog was taken by the Cuyahoga County dog warden.