This is an archived article and the information in the article may be outdated. Please look at the time stamp on the story to see when it was last updated.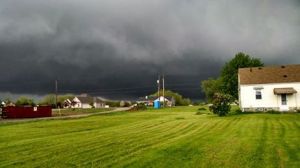 EATON TOWNSHIP, Ohio– The National Weather Service confirmed that an EF-0/EF-1 tornado touched down in Eaton Township, in Lorain County, Monday night.
It touched down near S.R. 83 south of S.R. 10.
The National Weather Service said the damage on the ground is consistent with a tornado touching down near Butternut Ridge Rd. around 7:45 p.m.
The twister damaged a barn and home. It was on the ground for about 5400 feet.
Stay with FOX 8 News and FOX8.com for the latest weather updates.
See video of the storm and get continuing coverage, HERE.