This is an archived article and the information in the article may be outdated. Please look at the time stamp on the story to see when it was last updated.
PARMA, Ohio-– Vicki Barrett's house is getting a lot of attention right now. Some people don't like the Halloween decorations she has in her front yard.
"This is the third year that we've done it, but for some reason this year we're getting a lot of media over it," said Barrett.
The display includes dummies covered in blood, wrapped in bags and hanging from trees.
Michael Pasek said it's way too much and worries it'll scare the kids at the Dentzler Elementary School down the street.
"I just think that belongs in a haunted house somewhere rather than perhaps out on the street," he said.
He said if they don't take it down, they should at least try to tone it down.
Barrett said that's not happening. She said her children haven't had any problems with the display.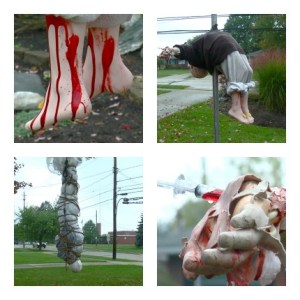 "When we put up the display, I don't think we even considered that there was a school there," she said. "I think as parents, if my kids were going to that school or if I was someone in the neighborhood, I would just teach my children that this is a Halloween display and I thought other parents would have done the same."
Julie Austin agrees with Barrett. She said it's the parents job to tell their kids it's fake.
"I think it's fine. It's Halloween. I don't see a problem with it. My daughter has watched 'Nightmare on Elm Street' and she's seven. So she's not scared and I think it's all in good fun," said Austin.
FOX 8 reached out to city officials in Parma and were told Barrett is not breaking any laws and has a right to freedom of expression.
"So we're going to basically go with our freedom of expression and keep everything up and enjoy Halloween," said Barrett.