This is an archived article and the information in the article may be outdated. Please look at the time stamp on the story to see when it was last updated.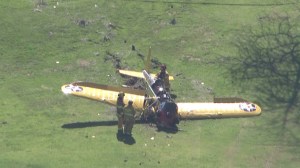 LOS ANGELES – Actor Harrison Ford was injured Thursday after crash-landing a small plane on a golf course in California.
Los Angeles Fire Department Assistant Chief Patrick Butler, who wouldn't name the patient, said the pilot suffered moderate trauma and was "alert and conscious" when he was taken to the hospital.  TMZ said two doctors, who just happened to be at the golf course, rushed over to help Ford.
"Harrison was flying a WW2 vintage plane today which had engine trouble upon take off. He had no other choice but to make an emergency landing, which he did safely. He was banged up and is in the hospital receiving medical care. The injuries sustained are not life threatening, and he is expected to make a full recovery," Ford's publicist said in a statement.
Ford is reported to be in fair to moderate condition. His son, Ben, tweeted that his dad is battered, but ok.
https://twitter.com/ChefBenFord/status/573649772583591937
The plane hit a tree as it landed, officials said. It landed on its belly with the left wing touching the ground. There is a mark in the ground behind the plane where the aircraft sliced into the grass.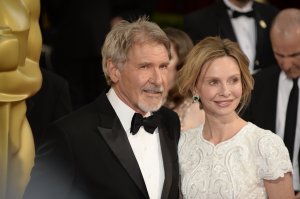 The 72-year-old actor was in a two-seat 1940s-era military trainer that went down on Penmar Golf Course near Santa Monica Airport, according to reports.
The National Transportation Safety Board said the plane was a Ryan Aeronautical ST3KR.
It is not the first crash for the star of the "Star Wars" and the Indiana Jones film franchises.
In 1999, he had to make an emergency landing in a California riverbed while flying a helicopter.
He missed time during the filming of "Star Wars: Episode VII" last year in Buckinghamshire, England, when he broke one of his legs on the set.
Follow our affiliate KTLA for more on this crash.