This is an archived article and the information in the article may be outdated. Please look at the time stamp on the story to see when it was last updated.
WESTLAKE, Ohio — Mike McLaughlin is looking forward to watching ice hockey games at the Olympics in Russia. 
But he won't be watching from his Partnership LLC office in Westlake; he will be in Sochi in person.
"It's not very often that you know somebody in the Olympics, let alone your little sister you watched playing ice hockey growing up," he said. "And here she is doing it professionally."
McLaughlin's little sister, Brianne McLaughlin, 26, grew up in Sheffield Village and is currently in Sochi competing with the women's U.S. hockey team.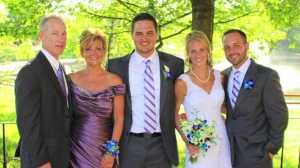 In less than a month, her entire family will be traveling to Russia to support her and her team. But despite security concerns surrounding the games, McLaughlin said their plants are not changing.
"My family and I will be going there to join her…you know, security measures are heightened but…you know it's the Olympics, it's kinda not the safest place wherever you go," said Mike McLaughlin.
With the Olympics just two weeks away, organizers said they are confident officials have a handle on the situation. And Russian leaders said they've stepped up security around the area in a "Ring of Steel" so that attackers won't penetrate.
Those reassurances haven't stopped serious concerns about safety among spectators and competitors.
Brianne was recently married, and this will not be her first dance at the Olympics. Her team brought home the silver medal four years ago in Vancouver. This time around, the goal is to win gold, despite the dark cloud hovering over the games.
"We're just going to stay inside Sochi, we're not going to be doing any sightseeing outside of the city, travelling together so, I wouldn't say it's carefree, but you gotta do what you gotta do," said Mike McLaughlin.