This is an archived article and the information in the article may be outdated. Please look at the time stamp on the story to see when it was last updated.
VERMILION, Ohio–  It started with a fundraising idea and an insect. Now, it's become the largest one-day festival in the country.
Fans of woollybears, FOX 8 and our own Dick Goddard came to Vermilion on Sunday for the 44th annual Woollybear Festival.
More than 100,000 people enjoyed the food, festivities and family fun. This year's parade had about 300 units, making it one of the largest yet.
People and pets dressed up in their brown and orange as a tribute to the forecasting caterpillar. According to legend, the wider the brown stripe on the woollybear, the milder the winter weather.
(Read this year's woollybear winter forecast here)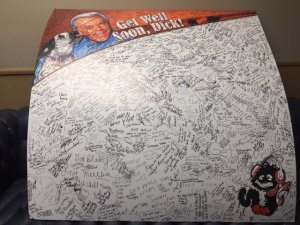 Even though Dick Goddard was not able to be there, his daughter Kim took his place and shared some good news.
"He's doing a lot better and he trusts everybody he really does," Kim Goddard said.
See more Woollybear Festival photos and submit your own here