This is an archived article and the information in the article may be outdated. Please look at the time stamp on the story to see when it was last updated.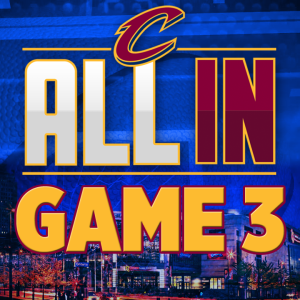 CLEVELAND, Ohio -- It's the countdown to Game 3.
The NBA Finals are tied at one game apiece as the Cavaliers return to their home court tonight. Fox 8 News in the Morning is #ALLinCLE today, with a full schedule of Cavs-related interviews and guests.
Author Terry Pluto, a columnist and sports writer for the Plain Dealer, spoke with us about the Cavs and how they got to this point. He emphasized that LeBron James is the only remaining starter from the first game of the season, with Kevin Love and Kyrie Irving out.
"This team's just defied all logic," Pluto said. "At this time a year ago, I want to find one person who would say the Cavs would be in the Finals with LeBron and with this group of players."
The Cavs stole home court advantage from the Golden State Warriors Sunday night, winning in 95-93 in overtime.
Coach David Blatt admitted this week that it won't be easy, and he doesn't expect that any of the games will be.
Also this week, LeBron James and Matthew Dellavedova talked about confidence, cohesiveness and getting ready for Game 3.
"As a team we have a collective confidence that we can still win and still get the job done, and I think we developed that at the end of the Chicago series and end of the Atlanta series," said Dellavedova. "So I think we have good cohesiveness on offense and especially on the defensive end."
"It's going to be the same as its been being out here," said James. "Around the clock treatment. Get my mind and my body ready for the game. Get an opportunity to go home. I haven't seen my wife, my kids in four or five days. Give them some big hugs, big kisses and I'm going to lock back in It's the same thing for me."
*Show you're #ALLinCLE right here, by sending us a photo*
*Join in the Cavs conversation on social media right here!*
*Get a full guide of where to park, where to party and where to watch tonight's game by clicking here*
The rest of the NBA Finals schedule is below:
Game 3: Warriors at Cavaliers on ABC, 9 p.m. on Tuesday, June 9
Game 4: Warriors at Cavaliers on ABC, 9 p.m. on Thursday, June 11
Game 5: At Warriors on ABC, 8 p.m. on Sunday, June 14
Game 6: Warriors at Cavaliers on ABC, 9 p.m. on Tuesday, June 16 (if necessary)
Game 7: At Warriors on ABC, 9 p.m. on Friday, June 19 (if necessary)
**Fox 8's PJ Ziegler will be reporting live – with all the inside info – from Oakland when the Cavs are on the road.**