This is an archived article and the information in the article may be outdated. Please look at the time stamp on the story to see when it was last updated.
WESTLAKE, OH —  Police are looking for four suspects they say stole an ATM from a Westlake gas station last week.
An employee at the BP station on Detroit Road and Columbia Road arrived for work at 4:53 a.m. on May 7 and discovered the break in.
A close captioned television showed four masked suspects driving a full-size van into the front glass window around 4:12 a.m. and struggling to get the ATM inside the vehicle.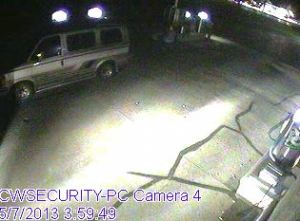 The Chevy Astro van was later discovered on May 15 on Woodstock Avenue; the inside was burnt out. Police determined the vehicle had been stolen.
One of the suspects was wearing tan pants and a distinctive jacket with pink, white and grey horizontal stripes.
If you have any information, contact Westlake Police.